Visiting the Historic Birmingham Jewellery Quarter.
With a day in Birmingham to fill while the husband takes part in a group phone based game called 'Ingress' i know exactly the first palace i want to visit, The Jewellery Quarter.
I have walked the bustling streets of London's Jewellery Quarter, Hatton Garden many times before Searching for the best plating companies and refiners however, Birmingham Jewellery Quarter is completely new to me. I use various companies form the area and recognise street and company names as i am getting closer to my destination of the 'Museum of the Jewellery Quarter.'
Located in a beautiful terraced building along Vyse Street is the original factory of 'Smith & Pepper' a family run jewellery business. Unassuming form the outside the expansive , multi tiered building soon revealed its secrets…
The tour begins by learning all about the family members who built this empire and the individual personalities that were wonderfully brought to life by our guide. From the original meeting room where clients would have haggled over prices through to the beautiful and untouched long office. It felt as thought the workers have never left. I am taken aback by the sheer amount of items left in their original places. When the proprietors of the Smith & Pepper jewellery manufacturing firm retired in 1981 they simply ceased trading and locked the door, leaving behind a snapshot in time beautifully preserved.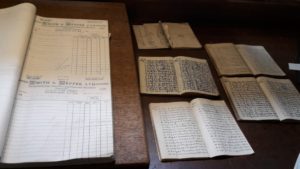 I can feel the hustle and bustle of orders being written up and finishing by being packaged in the stiff cardboard boxes still stacked neatly at one end of the room. A small shelf is perilously laden with pretty teacups and a jar of Marmite ready for break time. The room is filled with an amazing musty sent of old papers and hand written receipts in beautiful script, browned and brittle by the passage of time. One of the most brilliant pieces of the office which made me smile was a handmade 'Dumb Waiter.' The office girls would place the handwritten order in a tray and lower it down to the workshop beneath. After a few weeks of production a tray of gleaming gold jewellery would appear in its place. Simplicity at its very best, something i truly love.
I was fizzing with anticipation, desperate to descend the stairs in to the underbelly of the building and my most beloved area, the workshop!
Having starved myself of research and the temptation of looking at photographs prior to my visit, the workshop was truly a sight to behold. The first thing i spotted which made my jaw drop was an entire wall with shelves buckling under the weight of hundreds, if not thousands of pattern making dies.  Every possible pattern and shape, categorized and dusty just waiting on the shelf. Due to the nature of mass production that comes part and parcel with increased demand, Smith & Peppers workshop used a method of stamping out shapes using these patterns and Fly Presses. This allowed hundreds of pieces could be made in a day rather then merely a handful.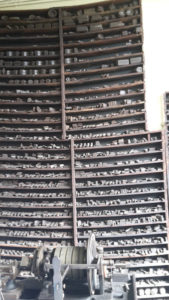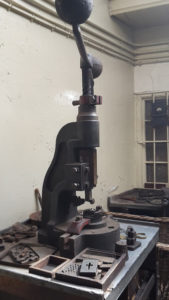 The instruction of 'Do not touch' was just unbearable, i desperately wanted to try every single punch and die, to make wonderful pieces of jewellery.
We were moved onto the next section of the workshop where the jewellers assembled the pressed patterns. I passed wonderful machinery that i recognised from previous workshops, yet that existed 100 years previously, huge rolling mills and drawing benches for making wire . All of them i can see resembled the perfect, shiny, electric powered machines of today.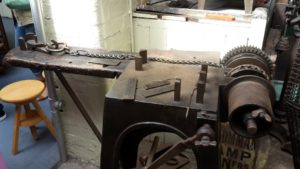 What surprised me most was how little space the jewellers were given to work in. An oval bench was segmented out so they sat shoulder to shoulder. I cant imagine it, i demand so much space, i am far too messy! There was even a section with a piece of wood nailed up in between it as two jewellers had a bad falling out and couldn't bare to look at each other! Again the workshop had been left as the jewellers were coming back to work the next day, tobacco tins littered the benches and teacups were stored next to the Potasium Nitrate plating solution. Certainly a lower level of health and safety then i am used to. However, we were informed that they lady who undertook the dangerous and noxious task of plating the metals worked here until her late 80's where she retired and got a new job around the corner, so it cant be that bad! i complain about my creaky chair let alone happily working in those conditions for so long. That is just the way it was they say.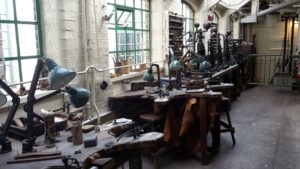 People worked there their entire lives, sometimes even finding their life partners working at another bench, a few love stories like this existed at this particular factory.
After absorbing the sights of every well used tool and the smell of tool oil and polishing dust i can say i am positively brimming with inspiration. I unwillingly step back onto the busy street wishing that i could have witnessed this amazing business in its heyday.
I must keep close in my mind those feelings, the absolute dedication to their craft and perseverance. On days when things aren't going quite right in my workshop, I need to look across at my beautiful Micro-welder and matching sets of pliers and think how easy i have it in comparison.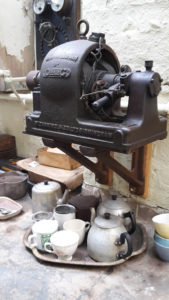 Thanks for reading and i defiantly recommend a visit.