For everyone that knows me, knows my adoration for our prickly friends the hedgehog. For those that didn't know, they will defiantly be aware by the end of this post!
Last year my husband and I fostered three baby hogs from a local rescue center. What went from a simple collect and release, ended up a six month rehabilitation in our house with lessons on nest building and worm foraging. They were absolutely incredible creatures to watch and no matter how incredibly bad they smelt, seeing them grow and learn was so rewarding. Release day was more emotional then expected!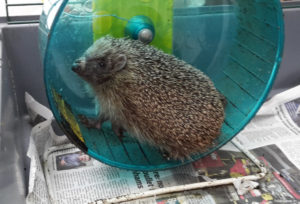 Aptly named 'Queen Latifa' loved exercising in the wheel!
After falling in love with these unusual beasts I researched their unfortunate decline in the wild. Before taking these little hogs on I was completely unaware of the trouble the species was in. Due to a decline in suitable habitat and particular food specialities the familiar sight of a hedgehog is becoming rarer and rarer. If you would like to know more on this issue the following link to the british hedgehog preservation society will fill you in.
http://www.britishhedgehogs.org.uk/pdf/SoBH_2015.pdf
With this in mind I decided to make a fun Hedgehog themed set of silver jewellery, with 20% of the proceeds being donated to the British Hedgehog Preservation society. The donations go towards creating a public awareness of how to care for hedgehogs that are found sick or injured and also to fund research into their behavioral habits.
The jewellery is hand made from Sterling silver and is finished with a contrasting polished/matte texture to highlight the fluffy face from the prickly back. .
The pendant measures 28mm nose to tail and 18mm high which comes on a silver snake style chain. The stud earrings measure 10mm and can be brought separatly from the necklace.
The jewellery can be brought from the above 'Collections' Tab or the following link;
peakjewellery.com/portfolio-item/hedgehog-donation-jewellery/