2016 may go down in history as a year to forget for most, but for me (although it had its sad moments) it will be a year I will never forget.
2016 was officially the year of the weddings!
This blog was originally going to capture the three weddings of 2016 in one go, however I did get slightly carried away and i have now split it into parts for easier reading! This is part one of three.
It was a hectic year! As well as my own wedding in June, our day was sandwiched wonderfully in between some of my best friends special days; Mr and Mrs Wildgoose and Mr and Mrs Bambrook.
Starting off with the Wildgeese in the springtime with the glorious marriage of Laura and Christian. You can see in a previous blog, an in depth look into the brides wedding necklace. These two are such a perfect pair, and they had the perfect wedding day to match. Located at South Farm in Cambridgeshire the day was filled with pastel blooms and the perfect lace dress. I was lucky to be even closer to the special day, by being one of the Bridesmaids.
I was honored to be asked by the groom to be apart of designing the engagement ring, which trying to keep secret from the bride was near impossible, as she is one of my closets friends. He casually dropped in conversation over a Chinese buffet, that he was planning to ask Laura to be his bride and i had to stifle a scream of utter joy to not alert the bride to be!
It was wonderful to work together on a project with the brief of "Something natural, as though the diamond has been overgrown by ivy…" After some sketches and secret, under cover emails we decided on the below design.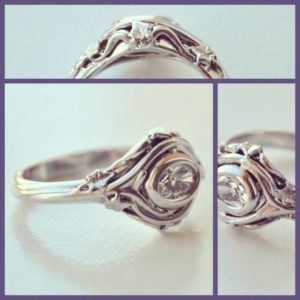 The Ivy Ring. A stunning Oval diamond, bezel set in 18ct white gold, surrounded by vines and hand engraved ivy leaves. The engagement ring is made from 10 individual parts, a design and construction challenge! It is still one of my all time favorites.
Wildgeese Wedding Rings.
The couple wanted to have rings that were in keeping with the Ivy theme. The bride wanted a very simple band that curved around her engagement ring and complimented it in an understated fashion. After a few different trials with plaited and twisted bands, a decision was made to keep it simple and use a plain 2mm white gold band which sits snugly against the diamond ring.
For the grooms wedding band we were more adventurous. He approached me with some sketches of what idea he had in mind and we discussed the plausibility of the design versus what is comfortable to wear everyday. I love to work closely with clients designs to try and make their ideas a reality. It is really interesting to see how each person approaches the design process, i can then take their design and adjust it to make it suitable to wear.  Adjustments could be; an unrealistic thickness to a wedding band, the stone being too high or a design which is too fine and would not withstand heavy wear.
After some final tweaks we had decided on a chunky 6mm white gold band with a concave profile. Inset into this profile was a wrapping of vines and three ivy leaves replicating the ones one the engagement ring, the three leaves representing the past, present and future. I loved creating the undulating and wrapping of these vines, trying to replicate nature is never easy, nature is too perfect!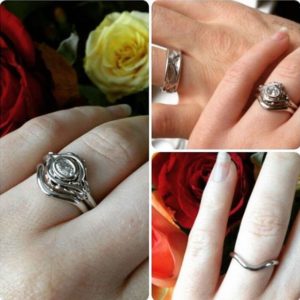 What an absolutely wonderful experience it has been to work with these two through out the whole process start to finish. Watching two best friends declare their love and promise to stick with each other, such an emotional day!
I hope you have enjoyed reading, please feel free to email me at info@peakjewellery.com regarding any questions you may have.
Watch this space for part two!
Thank you!
*Top image courtesy of Lucy Nobel Photography.
*Title image courtesy of Enchanting Wood photography.