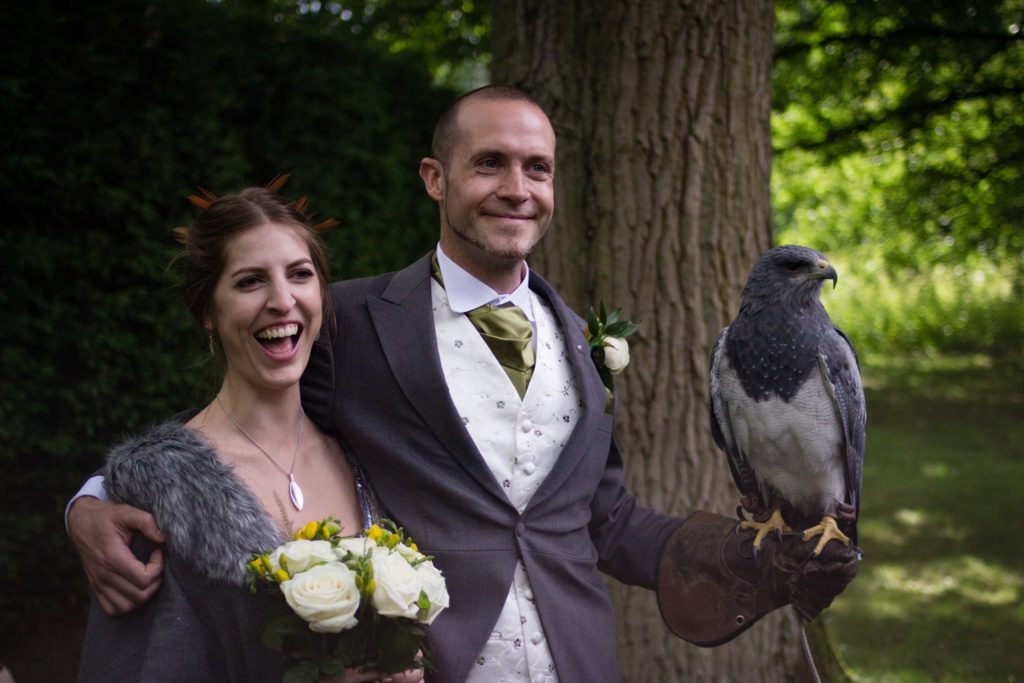 Well, This blog maybe slightly delayed, just over a year in fact. I am especially ashamed as this blog concerns my own wedding jewellery!
Our wedding had a woodland theme at a beautiful venue in Bedfordshire called Tofte Manor.  We wanted to incorporate traditional aspects such as; a sit down wedding breakfast, speeches, cutting of the cake and first dance. However, we offset some of the traditions with elements personal to us. Post ceremony we had stunning owls and hawks from The British School of Falconry for the guests to enjoy handling. Sharing our love for these creatures with our friends was just wonderful.
We also carried out an evening ceremony for guests that we could not fit in during the day! It is always frustrating when you cant invite everyone you want, and we were desperate for them to be part of our celebrations. Tofte manor has a magical Labyrinth in the grounds with a natural spring which runs underneath. Guests surrounded us while we weaved our way hand in hand, listening to poems read aloud by friends. A truly special moment.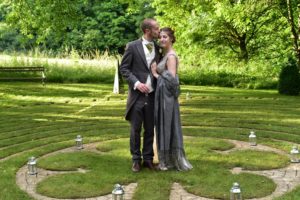 Anyway, I could carry on recalling our wedding day for hours, so lets get down to the important stuff- The rings!
The Engagement ring.
I do not not remember saying this at all, but apparently when we met, my husband said that I professed a desire to make my own engagement ring. (I totally believe he just made that up to take the pressure off! But I can definitely imagine myself saying something that mad.)
After years working in a bespoke jewellers, I lived for the moments when I could sit with couples and design their special pieces of jewellery together. Now it was my turn, I felt completely lost, What do I actually like?
I treated the process as I would discussing a design with a customer, narrowing down decisions; What metal, what stones, what shape etc…
I love the strength and endurance of Platinum so that was easy.
A brilliant (Round) cut diamond was a must as I am a traditional girl at heart, but i just had the desire for a little something extra…
My favorite gem by far is the Tsavorite garnet, a rich, luminous stone, with a deep leafy green. If I am presented with a selection of green stones, the one that catches my eye is always a Tsavorite, so it was meant to be.
Now for the shape. Pear shape stones always look so elegant to me with the points giving a definite finish to the lines of the design. When it came to thinking of the setting of the stones, I looked at the pros and cons of each style as I would when describing them to a customer. There was only one that appealed, the Cheneer or Rub set style. I love the smooth edges and how the edges highlight the overall shape of the stone.
Before I realised it , The design was there..
.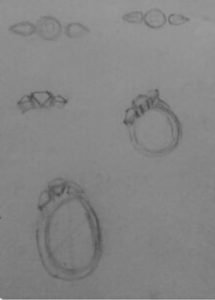 Little daydreamy sketches.
The Wedding Rings.
Getting nearer to the big day, my stress levels were through the roof, as any bride to be usually is!
I had spent so much time thinking about my husband to be's wedding ring I had neglected my own.  However, I had heard that making your own wedding band was thought to be terribly bad luck! So with a huge sigh of relief I handed over the responsibility to a close friend and old colleague.
I had decided upon a simple 2.5mm wide platinum band with a slight twist to fit snugly against my engagement ring. As a special little addition, I had previously made two platinum oak leaves which I initially had wanted to fit onto my engagement ring. The leaves ended up making the ring look too busy, but as luck would have it, there were two perfect spaces either side of the twist for the leaves to sit.
Oak trees are very special to us, one of our favorite trees and a recurring theme throughout our relationship. Husband proposed in an ancient oak forest and we were surrounded by them at our wedding venue, the mighty Oak as a symbol of strength.
The Husband.
I am incredibly lucky in the fact that he is so laid back. I basically said to him "I have always wanted to try this jewellery technique, im going to make your wedding band like this…." He quickly agreed as soon as I mentioned the technique 'Mokume Gane' which is the method used to make a type of Samurai sword, he was sold on the idea straight away.
I love a challenge and after having tested this technique briefly during my training I jumped in feet first. The fact that I did not have any of the correct tools, skill or experience with this technique using precious metals, should have put me off, but it didn't.
After a stressful evening planning exactly the amount of metal I needed, I clicked purchase and there was no looking back. Mokume Gane is a technique where varying metals are bonded together to make a big sandwich. The official technique is to bind them in a vice with heat or, to hammer and twist them, in a more blacksmith method.
As I didn't have the correct tools, I decided instead to weld the layers together instead and then using a large blowtorch, melt them together into one block. I cannot rememeber the last time i put myself under this much pressure and sweated as much! If this process didnt work, I would pretty much be melting hundreds of £££s and the materials would be useless and unusable. Luckily by keeping a cool head and using a methodical approach i ended up with a beautiful (to me) block of laminated layers.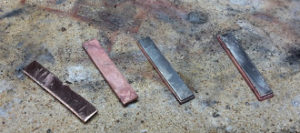 The above image displays the initial stages of welding layers of Rose gold and Palladium. I cannot find an image of the final block, I must have been too stressed to take the picture!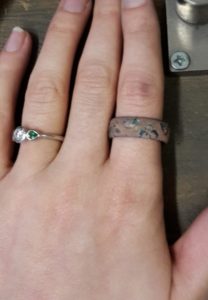 This stage the ring has had segments filed to reveal the layers, and forged into the ring shape.
The finished result!
Thank you for reading, and keeping with me through to the end!
I hope you have enjoyed reading.
If you have any questions regarding my process, or if you would like to discuss a special jewellery project.
Please contact me on info@peakjewellery.com
Michelle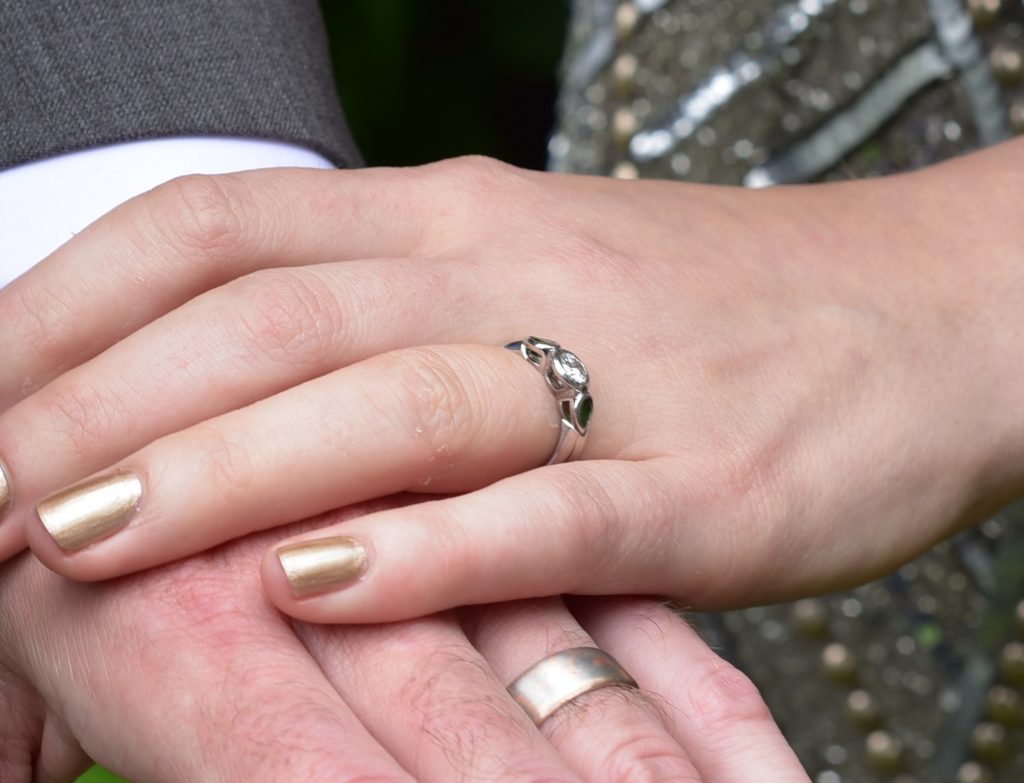 Image 2 and 6 courtesy of Kate Davies Photography.