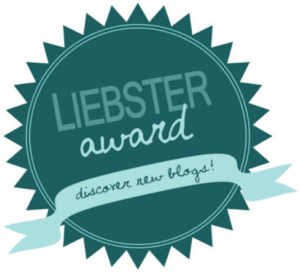 What a wonderful surprise to be nominated for the Liebster Award by blogger Amanda Preston at My Crazy Life
I am still very new to blogging, and it is a little out of my comfort zone. However, I have really enjoyed writing my previous posts and I will be pushing myself to continue my blogging journey.
Amanda's blog gives you an honest and in depth look into her life roles of an Adoptive / Foster parent and social worker. Her warm writing style makes reading about difficult subject matter accessible to all. I'm sure her words have been helpful and comforting to others going through similar situations. (Plus her website is beautiful!)
Thanks Amanda!
To start with I would have to say one of my favorite blogs (although technically it is mainly a podcast sorry!) is Tough Girl Challenges
Sarah Williams' blog highlights female role models from all walks of life, be they; explorers, ultra runners, climbers etc.. In an attempt to inspire other women to challenge themselves in a physical and mental way.  When I started reading and listening I didnt think it was the right thing for me. Sitting in my little workshop, I was overwhelmed by all of these incredible women and what they have achieved.  Once I got stuck in however, I was hooked. All of these women have had to start somewhere and have built up to their achievements over time. Listening to what they have had to overcome and how they reached their goals can be applied to anyone's situation.
My nomination has also included these questions, so you can get to learn a bit more about me, Michelle at Peak Jewellery.
Why Did you Start Blogging?
The main reason I started blogging was for people to get a real in depth look into what goes on behind the scenes.
I feel a lot of jewellery production is hidden or brushed under the carpet, maybe to keep its magic and luxurious allure. However, I wanted people to see how much goes into each piece, the inspiration, technique and time. My heart and soul is poured into my jewellery and from sharing this with customers, they tell me that they love hearing about the 'Behind the scenes processes' as it makes it more special for them. So here's to many more hopefully!
What Inspires You Most of All?
If you have browsed through my jewellery pages on this site, it should be easy to see (I hope!) that my biggest inspirations are the mountains. Not only their natural beauty and incredible shapes but the memories and experiences taken from adventuring amoungst them. It may have been your first time hiking up a mountain, or the first time you base jumped from the top of one! The memories and feelings experienced from these moments are so special and will be remembered forever. My aim is, for whoever is wearing a piece of my jewellery, to be reminded of a special moment or experience when looking at the shapes and structures.
One Extraordinary Thing I have Done In My Life?
It feels so long ago now and pretty much is! I took myself of to America for a month of exploring and to live out my dream of being a cowgirl. It may not sound extraordinary, but sitting on the back of an amazing horse, herding 1200 head of cattle through the most beautiful part of the Rockies in Colorado, was pretty extraordinary to me. I would never have left if I didn't have to ( my now husband breathed a sigh of relief upon my return!)
It was actually harder then I would have ever thought 'Living your dream' It was incredibly special but left me in a really weird "what next" scenario. I really struggled afterwards to find my next path and happily landed in the workshop, at the bottom of my garden making jewellery.
If I Could Have Anything I Want What Would It Be?
This was incredibly difficult to answer! If I ever make a wish over a birthday cake candle, or on a shooting star, it is always, simply for 'Happiness.' I am not difficult to please I think, so I spend most of my days pretty darn happy with husband, puppy and jewellery workshop combo. If I could have anything, maybe it would be to 'Live in the moment more' Or maybe ill just settle for a ranch in Colorado?!
What is your favorite part of blogging?
Simply put, just showing and sharing the process of how I make pieces with others. I love knowing how things are made, and when I show people my work, they are interested as well. Share the knowledge!
What three goals do you have for your blog?
I would love to be more disciplined and post more regularly.
Have a larger audience and reach a variety of people.
Write more with other people and do collaborative projects.
My Nominees!
Four amazing blogs from all different kinds of writer / artist. I recommend them to anyone to read!
TO THE NOMINEES:
Here are the official rules to accepting your nomination (based on the nomination I received):
Thank the person who nominated you, and post a link to their blog on your blog. Try to include a little promotion for the person who nominated you. They will thank you for it and those who you nominate will also help you out as well.
Display the award on your blog — by including it in your post and/or displaying it using a "widget" or a "gadget".
Write a post about your favorite blog that is not your own. Explain why you like the blog, provide links. Answer the questions from the person who nominated you.
Nominate blogs that you feel deserve the award, who have a less than 200 followers or are newer blogs.
List these rules in your post
Inform the people/blogs that you nominated that they have been nominated for the Liebster award and provide a link for them to your post. (They might not have ever heard of it!)
Post a comment in the comments of the award post so your post and blog can be viewed.
The Liebster Award at https://theglobalaussie.com/blog/liebster-award-2017/
Thank you everyone for reading, I hope you have enjoyed this insight into Peak jewellery and the wonderful work of The Liebster Award.
Michelle