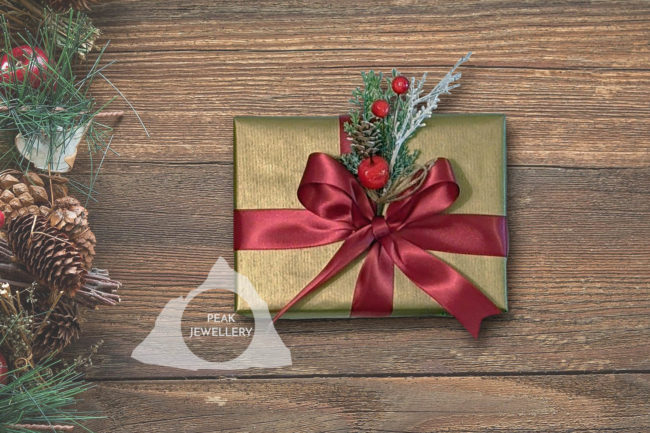 Christmas Gift Wrapping
Christmas Gift Wrapping £4.00
Add this product to your basket to have your jewellery lovingly gift wrapped.
Your jewellery with be safely packaged inside in a Peak Jewellery Gift box before being gift wrapped.
Gift wrapping includes;
Luxurious gold wrapping paper which can be recycled, lovingly tied together with ruby red satin ribbon. The beautiful parcel will be finished off with a festive floral adornment.
Your gift wrapped parcel will then be protected by tissue paper before being packaged up, ready for delivery. The parcel arrives 'Gift ready' so you can send directly to your giftee if needed.
If you have any specific requirements, please email info@peakjewellery.com
---
Product information;
Packaging
Each piece is carefully packaged in a gift box made from 100% recycled materials with a covering sourced from sustainable forests, to ensure a more environmentally friendly product.
To complete the piece, the box will be finished with a special Peak Jewellery wax seal, for your personal satisfaction to open.
Postage
Peak Jewellery is posted worldwide.
Each piece is sent via the most secure method, 'Tracked and signed.' This method allows you to track the parcels progress and will need a signature upon delivery. If you cannot be present for the parcels delivery, it will be stored at your local mail depot until a convenient time for you to collect.
UK orders, once dispatched should be expected within 3 working days, unless it is a personalised or bespoke piece which can take slightly longer.
USA and Canada can typically take an average of 9 days from dispatch in the UK..
Quality guarantee.
All Pieces sold in the UK Comply to UK Hallmarking rules, if needed the item will be  stamped by the Birmingham Assay Office to confirm the Sterling Silver 925 fineness, for your own guarantee of quality.
If you have any questions regarding the Peak Jewellery process, please just put your question in an email.